With the advent of Social Media and exponential rise in its popularity, Business owners can never ignore the Social media marketing. And needless to say, Social Media could turn into the cheapest and easiest way to promote your business across a staggering population irrespective of geography or demographics – with the mere click of buttons – "Share", "Like" or "Tweet".
The opportunities of Social Media for Learning Centers
Happy parents and motivated students could be the biggest marketing strength for a subscription based learning center. With continuous awards, appraisals and accolades, students bask with a sky-kissing self-esteem which in-turn inspires them to perform even better. Isn't that what every parent want? With the kid's exceling in academics, music or other activities . . .Parents feel proud and confident about the learning center. With strategic customer engagement programs, the learning centers could capture great feedbacks, testimonials, reviews and ratings. These could be used right on the social media to showcase surprising success stories and promote the overall business.
Students are appraised with awards, accolades and brownie points.
Students are highly motivated to perform even better.
Parents feel particularly proud of their child's achievements.
Through customer engagement programs, they share positive feedbacks, reviews and testimonials.
Learning centers could use those to showcase their success stories on Social Media and establish brand effectiveness.
Through fan pages, twitter handles and blogs, the success stories could reach a huge audience practically without any investment.
Customer Engagement as a Word-Of-Mouth marketing
Through innovative customer engagement programs, any business including the learning centers, should establish a bonding with customer. A loyal customer is 76% more likely to recommend the name of your business across his/her social circuits. Such word-of-mouth marketing plays a crucial role in:
Increasing the Customer Lifetime Value (CLV)
Increasing the overall Customer Retention.
Shown below are few of the key steps and benefits of proper customer engagement.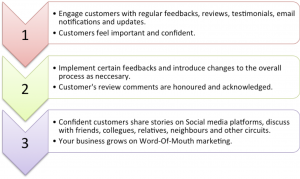 Customers & Students as Social Media Advocates
Parents are particularly skeptic when it comes to academics. So, the learning centers are solely responsible to convince and impress parents on the following parameters:
The Learning centers are responsible towards children's education.
The Learning centers are honest with their objectives, plans and strategies.
The Learning centers showcase certain integrity and seriousness towards the child's academic future.
An engaged customer and a motivated student could turn into a potential social brand advocate for your business. Sharing wonderful testimonials, positive feedbacks, great reviews and success stories with friends, relatives and colleagues could do absolute wonders for your business. In short, a happy customer turns into a social ambassador recommending your learning center to hundred others. And each of these hundred spreads the word across another hundred potential customers. These confident parents vouch for your business and advise many others to join in. The extent of coverage and publicity your Learning Center could get is beyond anticipation.
Conclusion
While most businesses today face stiff competition and are vulnerable to infinite risks, customer engagement is one of the most effective means for customer retention. Happy and confident customers tend to stick back with a particular brand and also turn into a brand advocate vouching for its authenticity. Such seamless Word-Of-Mouth marketing is the cheapest and most effective form of social broadcast that could literally sky-rocket your sales and enrollments.